What if there was no Stolen Horse International-NetPosse.com? Help us where it is needed most. Your tax-deductible donation funds lifesaving recoveries, education, and our victim's services program - and means so much to someone trying to find their horses. Please donate today.
For those who do not know why this organization was founded, here are a few facts as to how Stolen Horse International-NetPosse began.
On September 26, 1997, 22 years ago, Harold and Debi Metcalfe's world was turned upside down when Harold discovered his beloved spotted racking horse mare, Idaho, was missing from the pasture.
What the Metcalfes didn't realize at first was that Idaho didn't escape on her own or just wander off.
What the Metcalfes didn't realize at first was that Idaho wasn't going to be found in a matter of a few minutes ... or hours ... or days ... or weeks.
What they did discover was that Idaho, like thousands of other horses each year, had been stolen.
What they did learn was that there were few resources in 1997 to help them. Not through local law enforcement and not to be found on the Internet.
What the Metcalfe family did for Idaho what has been developed into helpful programs through Stolen Horse International's Web site, www.NetPosse.com.
There are many more first for Stolen Horse International-NetPosse.com but only a few are listed below. Did you know that:
Idaho's flyer was the first flyer on the Internet for a stolen horse search.
The first volunteer networking organization for a stolen horse in the USA? It is still the only nonprofit organization that works with victims.
The first to provide online microchip kits online to the public?
The first to provide listings online for lost, found, stolen, and missing horses.
The first to provide an all equine identification record keeping registry, still the only one of its kind.
To keep these programs funded and others developing we need your help. We simply can't do what we do without your help.
WAYS TO DONATE

Help us stay to continue to help others.
You can also mail donations to Stolen Horse International, Inc., PO Box 1341, Shelby, NC, 28151. Make checks payable to Stolen Horse International.
You can make a donation directly to us via our website at this link,
https://netposse.com/donate.asp
. Or go to
www.netposse.com
and click on Donate or simply click on the images on this page.
You can donate with a credit card or Pay Pal.
Your donations make a difference far more than you know. To those who donate, thank you for being part of our 2019 year-end fundraiser for our Victim Services program!!!
Merry Christmas and Happy New Year to you all!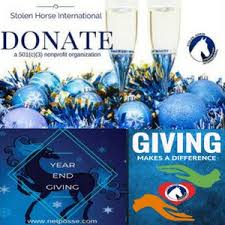 Stolen Horse International
provides news and other resources for free on this website. As a charitable organization we survive on the kindness of people like you. Please consider donating to help fund the organization or purchasing a NetPosse ID for your horse, dog or cat to help protect your beloved animals!
Donate
Buy NetPosse ID