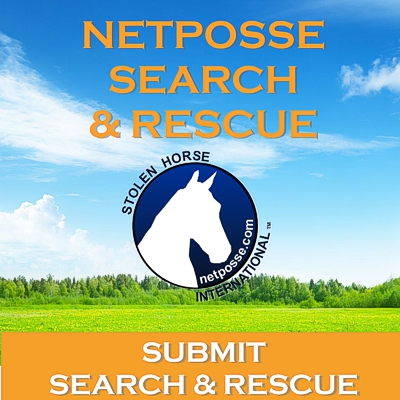 Do you like to trail ride or go hiking? Are you a member of a Search And Rescue (SAR) Group? Do you have a drone, UAV? How about K9 SAR? If so, we need your help!
Become one of NetPosse's Posse Members and help "Bring Horses Home"
Stolen Horse International aka NetPosse.com™ is looking to grow our list of contacts in the US and Internationally. We are in need of people who like to trail ride or go hiking, SAR Organizations/Members, Drone/UAV Pilots, K9 SAR to help with the search for horses that are reported as Missing, Lost or Stolen.
If you are interested in joining our NetPosse Search & Rescue Posse™, please click on this link: https://netposse.com/add_searchandrescue.asp to be added to our database.
We are always looking for volunteers to help our victims find their horses. WE NEED YOU!
Things to Remember About Searching For a Lost Horse:
Remember he maybe scared and run from you.
Ride Quiet.
Look everywhere not just on the trail.
Have cookies and water in your saddle bag.
Have a lead line and halter with you.
Have YOUR info in saddle bag and on horse (your name and # and where you started your ride from).
Keep YOUR phone on you not in your bag.
Ride/walk in teams of 4 no less.
DO NOT RIDE ALONE.
Wear a Yellow or Orange shirt or EM vest so you can be seen.
Have map of your trail and GPS if you have one.
If horse is seen... STOP ... one person get off with cookies and halter lead ..leave your horse with other riders . walk slow talking to him in a soft voice ..if he run's DO NOT CHASE ... get back on your horse and follow send 2 riders back to camp for help..if you get him take back to parking area ... have everyone there blow there horn's to let others know he is at camp.
If you have any questions regarding joining our NetPosse Search & Rescue Posse, please contact us.
DON'T WAIT, JOIN US TO HELP BRING HORSES HOME!
"Never Underestimate The Power Of One" ~ Debi Metcalfe, Founder - Stolen Horse International aka NetPosse.com™
#‎search‬ ‪#‎rescue‬ ‪#‎SAR‬ ‪#‎TrailRiding‬ ‪#‎Hiking‬ ‪#‎Drone‬ ‪#‎UAV‬ ‪#‎K9‬‪#‎MissingHorse‬ ‪#‎LostHorse‬ ‪#‎StolenHorse‬ ‪#‎SearchandRescue‬‪#‎DogSearchandRescue‬ ‪#‎GroundSearch‬ ‪#‎HorsebackSearch‬‪#‎CanineSearchandRescue‬ ‪#‎NetPosse‬ ‪#‎StolenHorseInternational‬‪#‎BringingHorsesHome‬ ‪#‎NeverUnderestimateThePowerOfOne‬